Ette Tete Management System has been certified to be in accordance with the requirements of the management system standards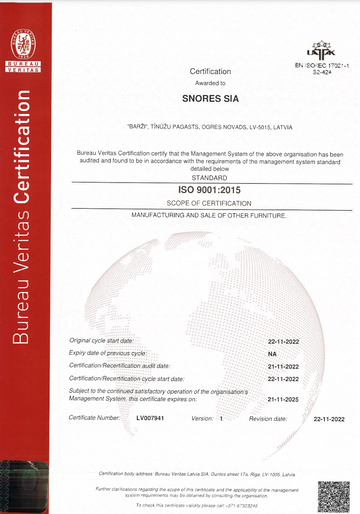 ISO 9001:2015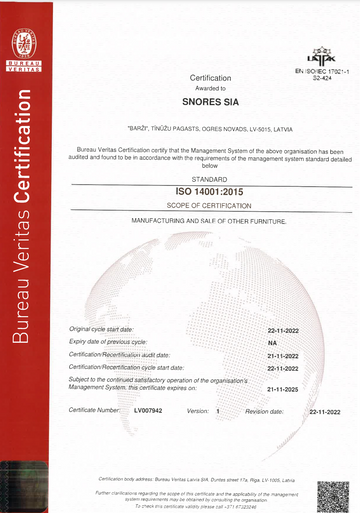 ISO 14001:2015
Bureau Veritas
Ette Tete Management System has been certified to be in accordance with the requirements of the management system standard ISO 9001:2015 and ISO 14001:2015.
Certified company's scope of activity:
Manufacturing and sale of other furniture.
We strive to improve our services and care about our impact on the environment, as our actions today will shape the future tomorrow.
Product certificates
All our products have the following standards and certificates:


Europe
EN 1729-1
European Standard: Furniture - Chairs and tables for educational institutions -
Part 1: Functional dimensions
EN 1729-2
European Standard: Furniture - Chairs and tables for educational institutions -
Part 2: Safety requirements and test methods
EN 14183
European Standard: Step stools
EN 7191
European Standard: Children's Furniture - Seating for children -
Safety requirements and test methods
ASTM F2613-21
Standard Consumer Safety Specification for Children's Chairs and Stools
EN 14183
European Standard: Step stools

South Korea
Korean system standard: Common safety standards for children's products
Korean system standard: Supplier Conformity Safety Standards Annex 14 – Children's furniture
Korean system standard: Common safety standards for children's products
Korean system standard: Supplier Conformity Safety Standards Annex 14 – Children's furniture

USA
ASTM F2613-21
Sandard Consumer Safety Specification for Children's Chairs and Stools


Europe
EN 71-1:2018-12
European Standard: Safety of toys – Part 1: Mechanical and physical properties [German version EN 71-1:2014+A1:2018]
EN 71-2:2014-07
European Standard: Safety of toys — Part 2: Flammability, German version EN 71-2:2011+A1:2014
EN 71-8:2018-03
European Standard: Safety of toys – Part 8: Activity toys for domestic use; German version EN 71-8:2018
EN 71-3:2019
European Standard: Safety of toys - Migration of certain elements
EN 71-9:2005
European Standard: Safety of toys - Organic chemical compounds
EN 71-1:2018-12
European Standard: Safety of toys – Part 1: Mechanical and physical properties [German version EN 71-1:2014+A1:2018]
EN 71-2:2021-02
European Standard: Safety of toys — Part 2: Flammability [German version EN 71-2:2020]
EN 71-8:2018-03
European Standard: Safety of toys – Part 8: Activity toys for domestic use [German version EN 71-8:2018]
EN 71-3:2019
European Standard: Safety of toys - Migration of certain elements

Europe
EN 71-9:2005
European Standard: Safety of toys - Organic chemical compounds
EN 71-1:2018-12
European Standard: Safety of toys – Part 1: Mechanical and physical properties [German version EN 71-1:2014+A1:2018]
EN 71-2:2021-02
European Standard: Safety of toys — Part 2: Flammability [German version EN 71-2:2020]
EN 71-8:2018-03
European Standard: Safety of toys – Part 8: Activity toys for domestic use [German version EN 71-8:2018]
EN 71-3:2019
European Standard: Safety of toys - Migration of certain elements
EN 71-9:2005
European Standard: Safety of toys - Organic chemical compounds


Europe
EN 71-1:2018-12
European Standard: Safety of toys – Part 1: Mechanical and physical properties [German version EN 71-1:2014+A1:2018]
EN 71-2:2021-02
European Standard: Safety of toys — Part 2: Flammability [German version EN 71-2:2020]
EN 71-8:2018-03
European Standard: Safety of toys – Part 8: Activity toys for domestic use [German version EN 71-8:2018]
EN 71-3:2019
European Standard: Safety of toys - Migration of certain elements
EN 71-9:2005
European Standard: Safety of toys - Organic chemical compounds


Europe
EN 71-1:2018-12
European Standard: Safety of toys – Part 1: Mechanical and physical properties
EN 71-2:2021-02
European Standard: Safety of toys — Part 2: Flammability
EN 71-3:2019+A1:2021
Migration of certain elements
EN 71-8:2018-03
European Standard: Safety of toys – Part 8: Activity toys for domestic use
EN 71-9:2005 +A1:2007
Organic chemical compounds